Press Release
Press Release
Ten Year Legacy Delivers Ten Year Future Opportunity
Ten years of park, plant and wildlife management and maintenance at Queen Elizabeth Olympic Park (QEOP) has resulted not just in a visitor attraction which now welcomes over 6m visitors a year, but in the renewal of idverde's park management contract.
The £30m, ten-year contract, has been re-awarded to idverde by the London Legacy Development Corporation (LLDC) based on a successful ten-year history which has seen nature restoration, increased biodiversity and wildlife into the park, the development of new planted areas such as the Covid Memorial Blossom Garden, and a succession of apprenticeships and job opportunities.
The next years look equally promising. idverde has a rich history and expertise in managing complex community spaces and is looking forward to the next chapter which includes the introduction of cleaner equipment, including robotic mowers, an increase in job opportunities, and a continuation of the rich partnerships which help make the park the success it is.
"QEOP is not like other parks, explains UK CEO Kristian Lennard. 'It fulfils a range of needs from a place of sanctuary for visitors, to high-profile events. It is home to residents and an increasing number of animal, bird and plant life.  We are delighted LLDC has recognised the passion and opportunity we want to continue to bring to this important area of London.  Breathing life into our cities and suburbs, creating places where people and nature can thrive together, is key to our ambition. QEOP is a wonderful demonstration of that ambition."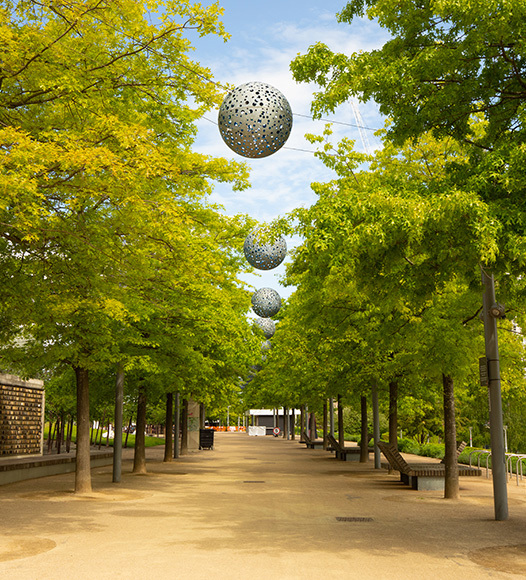 Inspiring and Innovating
idverde is delighted to support and be part of LLDC's ambition "to change the lives of people in east London and drive growth and investment in London and the UK, by developing an inspiring and innovative place where people want -and can afford- to live, work and visit."
The achievements delivered so far, which have directly contributed to the renewal of the contract, have been part of a team effort. idverde's Organic Development Director Saul Huxley said "The strong support from over 300 volunteers at the Park, together with our partnership with RSPB, has been invaluable to the successful development of many areas of the 560 acres of land which make up QEOP. We are delighted that in awarding this contract, LLDC has also recognised the importance of this teamwork which brings ideas and passion to the project, as well as practical delivery.
Have a question for the idverde group?
Do you have a question for a particular park place country? Try these links: